Does your wafer or base plate come unstuck?
Does fear of leaks prevent you from doing activities you love?
Sound familiar? That's why we've found an alternative to traditional extenders and tapes that are kinder to skin and we want everyone to know about it.
Trio Silex® Silicone Extenders are made with Sil2™ Breathable Silicone Technology. They provide added silicone adhesion to your wafer or base plate during activities and warm conditions as well as adapting to varied body shapes; all whilst allowing skin to breathe and move naturally.
Many ostomates find that the edges of their base plate or wafer lift away or unpeel during wear, as their skin sweats underneath. Ultra-thin, waterproof Silex extenders are placed around the flange to stop the edges of the wafer or base plate from lifting.
At your next bag change, Silex peels off in one go, avoiding any pain or damage to the skin surrounding your stoma.
Request a sample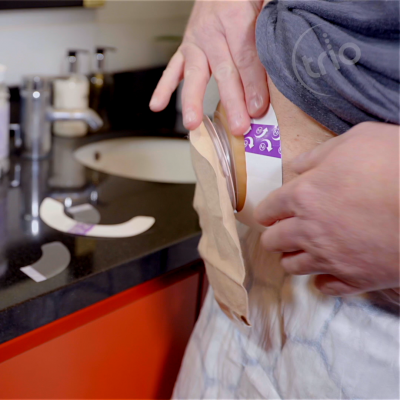 Silex review - Kaye
I'd recommend this product it's absolutely amazing. I have more confidence in this then the other flange extenders I was using. Doesn't even lift when swimming four times a week.
the benefits of Trio Silex
High-tack adhesion – providing long term leak prevention
Waterproof – will not break down making it perfect for swimming, bathing and hot climates
Flexible silicone formula – allows skin to move freely and comfortably
Gentle, one-piece removal for quick and pain-free bag changes
Breathable formula – allows skin to breathe naturally
Each pack contains 20 silicone flange extenders.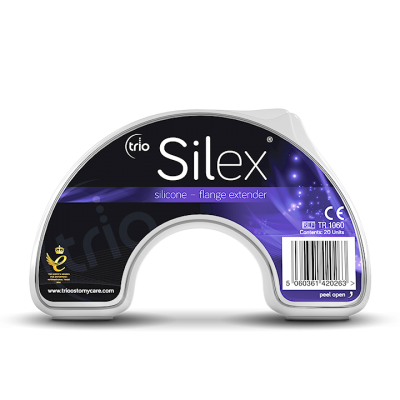 FAQs
What's the difference between hydrocolloid and silicone?
Hydrocolloid is an absorbent material used in many ostomy products, it's designed to absorb moisture and the more it absorbs the better it sticks. When used in ostomy, output and sweat can be absorbed by the hydrocolloid products and held against the skin, causing irritation and sore skin as well as causing the hydrocolloid to break down and lose integrity. Silicone maintains a good adhesion with skin but does not absorb waste making it kinder on skin and more hygienic. It's hypoallergenic, so less likely to cause irritation, and the silicone in Trio products is also responsive, fitting and moving with your stoma and body to improve the fit.
How do I get Trio® products on prescription?
You can speak directly to your delivery service and ask them to switch your product, however some prefer for you to speak to a healthcare professional before changing products. In this case, speak to your stoma care nurse or GP to get your prescription updated.
How will Trio® silicone seals adhere to the skin if they are not absorbent?
Absorbency is a requirement of hydrocolloid to enable it to achieve adhesion, however silicone products are designed to adhere to the skin without the need to absorb liquid or body waste. This results in instant adhesion and keeps corrosive output and body fluids away from the skin providing a cleaner, more hygienic solution.
Can I shower whilst wearing Trio® products?
Yes. Trio® silicone products are non-absorbent and adhere well to the skin allowing the user to shower without fear of the water affecting adhesion.
Can I use Trio® silicone products on wet skin?
Most ostomy products will struggle to adhere to very wet skin. If your skin is very sore and wet, you should seek medical attention and take advice from your healthcare professional. However, if your skin is mild to moderately wet, you should prepare your skin as normal prior to any appliance or bag change, then apply the Trio product as normal. This includes washing and drying the skin and applying powder if necessary.
How long can I leave the Trio® silicone products on for?
Trio® silicone products are designed to remain on the skin, delivering their full benefits, until you are ready to change your appliance/bag. Trio's custom formulated silicones do not break down in the presence of body fluids and are designed to remain on the skin for prolonged periods of time.
What happens if I appear to get skin irritation after I use Trio® silicone products?
It is important to note that silicone is chemically inert and unlikely to cause skin irritation. Silicone is used widely in all areas of healthcare for this exact reason. However, if you feel that irritation has occurred, remove the product in question from your skin and clean the skin thoroughly with clean, warm water only. If the irritation persists, then discontinue use and seek advice from either the Trio Customer Service helpline or your Stoma Care nurse. You may wish to patch test the product before use, by placing it on another area of the body to see if skin irritation occurs away from the stoma site.
Can I use Trio Silex® Silicone Extenders on sore skin?
Yes. Trio Silex Silicone Extenders can be used on sore skin, offering protection from further damage and allowing the skin to heal naturally. Silex is thin, conformable, allows skin to breathe and is gentle on removal.
How does the price compare to my current product - does it cost more?
Trio® silicone products have been priced in line with traditional hydrocolloid products to enable our advanced technologies to be delivered at an affordable price for ostomates and healthcare providers around the world. For individual product pricing, you can speak to our Customer Service team or your local distributor.
Do Trio® products contain alcohol or latex?
No. None of the Trio® silicone product range contains any alcohol or latex.
Can I get Trio® products from my normal supplier?
Yes, all Trio® silicone products are available from delivery companies and pharmacies in the UK and some EU countries. For more details, contact your normal supplier or email our customer services team at careline@triohealthcare.co.uk
Are these products available on UK NHS prescription?
Yes, all Trio® silicone products are available on prescription from your GP. Provide your GP with the relevant product code (found on the product page) to make it easier to find. For accuracy, we can also send you a prescription card with the product(s) you use selected for you to give to your GP. You then obtain the product through your usual provider (delivery company or pharmacy). For International customers, please contact your nearest stockist for local information.