Genii™ the closed bag that sticks, seals and feels like it's not even there!
If you need a one-piece, colostomy bag, it's time you tried Genii™. This is the first closed stoma bag to feature our exclusive Sil2 Breathable Silicone Technology® in the flange. Which means it sticks with a unique silicone adhesive, seals perfectly to protect skin and feels like it's not even there! Our Genii™ closed stoma bag comes with all the features you expect from a modern bag, such as a great carbon filter, but with the added promise of being great for your skin. The lightweight material is both water-resistant and quiet which makes being active a breeze. Give it a try, we know you're going to love it.
Request a sample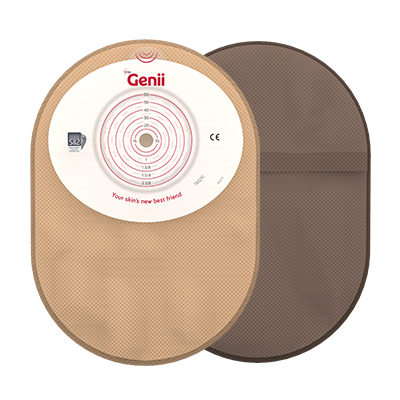 Genii™ closed stoma bag features:
Sticks with a unique silicone adhesive which is naturally breathable
Seals perfectly to protect skin with no pain or damage on removal
Feels like it's not even there – soft, flexible and conformable
Water-resistant material – leaves the bag dry to the touch. Ideal for being active, swimming, showering and bathing
Skin tone colours – 'camouflages' against the skin – available in a choice of light, medium and dark
Soft material cover – lightweight, quiet material, stays fresh for optimum, long-lasting comfort
Improved airflow – High performance carbon filter manages air in the bag to reduce ballooning, pancaking and odour
Cut to fit 15-60 mm to suit all stoma shapes and sizes
Easy viewing Split design bag cover to help view contents
Product sampling available in the UK only
We encourage all ostomates to try our products. Order your sample of the Genii™ closed stoma bag or any of our other great solutions.
Product Code
TR321N
TR322N
TR323N
Colour
Medium
Medium
Medium
Product Code
TR321T
TR322T
TR323T
Product Code
TR321C
TR322C
TR323C
Want to know more?
Our team are happy to chat through your requirements and discuss the range of products we have and what might best suit your stoma needs.
Available to contact: Monday – Friday 9 -5pm
United Kingdom: 0800 531 6280
Email: careline@triohealthcare.co.uk
Request a sample
Change your prescription
Genii™ is available in the UK on NHS prescription. We advise that you sample any products before making changes to your prescription and always refer to your stoma nurse for guidance if needed.
Anne
"Once it was on, you couldn't feel it and that's massive because you can forget it's there. It worked incredibly well, there were no gaps and no wrinkling. I think it's a real gamechanger".
Alfred
"What amazed me was the new silicone adhesive stuck much more firmly than anything I've used before. I had no leaks or pancaking. The silicone adhesive makes all the difference".