Genii™ Ostomy Seals. Genius for preventing leaks.
Are you getting leaks? Is your skin red and sore under your flange? This could be caused by gaps between your stoma and bag. Genii™ Ostomy Seals are designed to protect the skin immediately around the stoma from irritation and breakdown by providing a snug fit and helping skin to breathe. Quick and easy to apply, they simply stretch around your stoma, without the need for warming, and then retract to provide a custom fit. These seals are so flexible, they'll adapt to your body's movement throughout the day.
Available in small, medium and large to suit all stoma sizes. Genii™ Ostomy Seals unique flexibility can comfortably respond to the changing size and shape of your stoma.
Request a sample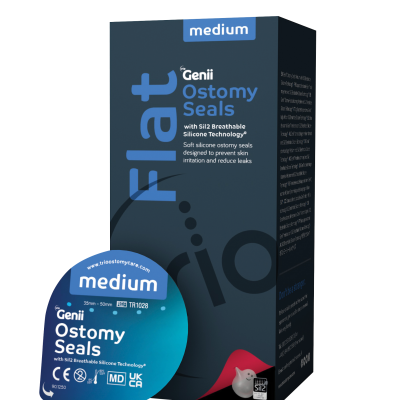 Key features
Genii™ Ostomy Seals are made with unique Sil2 Breathable Silicone Technology® which supports the skin's natural barrier function and is breathable to moisture. This allows excess fluid to evaporate through the seal so it can maintain its adhesive properties while protecting your skin.
Snug, customised fit – hugs the stoma- eliminating gaps and leaks
Comfortable and secure – responds to body movement
Longer wear-time – doesn't go gooey or breakdown
Protects skin from bodily fluids allowing it to heal and remain healthy
Product name and code
Genii™ Ostomy Seals – TR1020
Genii™ Ostomy Seals – TR1028
Genii™ Ostomy Seals – TR1035
*pack size 30
Product size
Small – 20mm-35mm
Medium – 35mm-50mm
Large – 50mm-80mm
Genii™ Ostomy Seals - Annie
I've just tried a sample of the Genii™ Ostomy Seals and I am amazed at how much easier they are to use than the ones I'm currently using, which seem to stick to everything except where they're supposed to, rip, and I have to cut off the excess when I've tried to get as close to my stoma as I can. Genii™ Ostomy Seals keep thier shape and don't rip, and go on so easily.
Genii™ Ostomy Seals - Mark
Wonderful product that helps me a lot as an Ostomy sportsman from Holland. No more leaking bags. I feel much more secure using the Genii™ Ostomy Seals.
FAQs
Are Genii™ ostomy seals difficult to remove?
No. The Genii™ ostomy seals remove easily in one piece for reduced risk of skin stripping. They also do not leave a sticky residue on the skin when removed.
Can I apply the Genii™ ostomy seals to my stoma bag?
We recommend that you apply directly around the stoma to ensure a good seal. You can view our application guides here.
Can I mix Genii™ ostomy seals and Genii™ flange extenders?
Yes, you don't have to use the same type of seal all the time, we know your stoma varies so your products may need to vary too. Any combination of Trio® silicone products can be used depending on your needs and what works for you. Please call or email our Customer Services team for advice and guidance.
Can I reapply Genii™ ostomy seals once I have applied them?
Genii™ ostomy seals are designed to be able to be removed and reapplied without affecting adhesion.
Can I shower whilst wearing Genii™ ostomy seals and Genii™ flange extenders?
Yes. Genii™ ostomy seals and flange extenders are non-absorbent and adhere well to the skin allowing the user to shower without fear of the water affecting adhesion.
How do I remove Genii™ ostomy seals from their packaging?
Genii™ ostomy seals are moulded into the blister pack and we know sometimes ostomates aren't sure how to remove them or have concerns about breaking them during removal. Once you have taken off the foil lid, to remove the seal easily you should hold the blister pack using the tab and with your thumb gently peel the edge of the seal towards the middle of the blister. Once the seal has released, using your thumb and forefinger carefully pull the seal from the blister. The seal is strong enough to be pulled free from the blister without tearing or damage. If you aren't sure, take a look at our user guide page for visual step by step guidance here.
How will Genii™ ostomy seals adhere to the skin if they are not absorbent?
Absorbency is a requirement of hydrocolloid to enable it to achieve adhesion, however silicone products are designed to adhere to the skin without the need to absorb liquid or body waste. This results in instant adhesion and keeps corrosive output and body fluids away from the skin providing a cleaner, more hygienic solution.
Will the Genii™ ostomy seals break down under my stoma bag?
Trio® silicone seals are designed not to break down in the presence of body fluids to provide you with better skin protection and potentially longer wear times of your appliance/bag.
See all FAQs