In late September of 2017, I was diagnosed with a high grade, aggressive bladder tumor. By January of 2018 I was advised that I would need a radical cystectomy. So, on the 31st of January 2018 "Winnie" was born – "Winnie was the name I gave to my stoma.
After staying in hospital for 5 days I was discharged and I was given a small blue plastic, "lunch box" type case. This contained a few stoma bags, some dry wipes, a can of adhesive remover and that was it.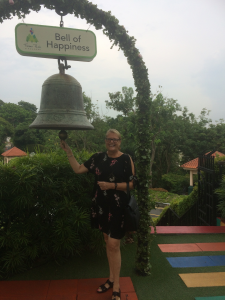 My new life with a stoma
I knew nothing of "stoma's, I had never encountered anyone that had one and so my journey began. The early days, I won't lie, were quite difficult. My stomach was swollen and leaks were pretty much an everyday occurrence. Each day my stomach seemed to change shape as the swelling started to go down. I had developed little crevices, where the urine would leak. I called my stoma nurse and she brought some type of gooey paste. She advised that I put this into the little dips and crevices. It was awful, it was sticky, brown and difficult to remove. It really didn't help me and the leaks continued. On top of the leaks I was now also experiencing redness of the skin and it was becoming quite sore and inflamed.
Finding Trio products
It was around this time that I started to investigate and educate myself as to what stoma products were actually available. And so, the "googling" began. Quite by chance I came across Trio Ostomy Care and I decided that I would request some free samples and see if they would help me.
My order consisted of Trio's Silken Stoma Gel, Elisse Sting Free Barrier Spray and the Elite Sting Free Adhesive Remover. My little parcel arrived a few days later and to be honest I couldn't wait to try the products as I was desperate. The leaks were ongoing and the skin around my stoma was becoming increasingly redder and sorer.
Using the Trio products
At my next bag change I pulled out my samples. First, I used the Elite sting free adhesive remover to help remove my bag. It was great, the Can can be held at any angle to spray which really helped. The bag came off quite easily. I was impressed! I then sprayed a little of the adhesive remover onto a dry wipe and used this to clean the remaining glue residue on my skin. It didn't sting on my "reddened" area, which was good. I then sprayed a little of the Elisse sting free barrier spray all around my stoma area. Again, the Can is able to spray at any angle. It felt quite soothing and dried very quickly.
Lastly, I picked up the tube of Silken gel. This is clear in colour and I squeezed this around the opening of my stoma bag and a little was squeezed into the "dips" and "crevices" on my stomach. I then stuck the bag as normal. Praying that these products would work, I set about my normal daily activities.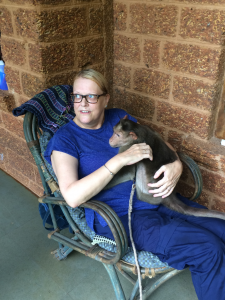 The results
Well what can I say! For the first time since the birth of my stoma "Winnie", I had no leaks!! I went a full two days without having to change my bag. On removing that first bag after using the Trio products, my skin was beginning to look better. The redness had definitely subsided and my skin was beginning to look normal again. The Silken gel came off so easily. It wasn't gooey or sticky. It just peeled away, leaving no residue.
I continued to use the Trio products at every bag change. I can honestly say that the Silken gel in particular was my "life saver". It formed an impenetrable seal around the opening of my bag. In the last two and a half years I have only experienced leaks twice and that was my fault, as I was too busy enjoying myself to realise that my bag was full and hence a leak occurred.
What Trio products have allowed me to do
Well thanks to Trio and their Silken gel, I gained in confidence. I began to trust that this product wouldn't let me down.
So, five weeks after my radical cystectomy I flew to Croatia, then at six weeks post op, I flew to Amsterdam. Then at 5 months post op, I made the biggest decision of my life. Hubby and I decided to go "back-packing" around SE Asia for 8 months!
The products were never affected by heat and continued to serve me well. My skin was never sore again, no leaks. Trio Silken gel without a shadow of a doubt enabled me to go on this great adventure.
So Trio, thanks to your amazing products I have a life, in fact I have an amazing life!
Published: 22nd November 2019
Back to Blog