we believe everyone has the right to healthy skin.
Trio® makes life better for people with stoma bags by creating innovative ostomy care products. We've found an alternative to traditional ostomy seals that is kinder to skin and we want everyone to know about it. Imagine a world where hydrocolloids aren't your only option. Where a bag fits so perfectly you would hardly know it's there. Where people no longer have to suffer the embarrassment and discomfort of leaks and sore skin. Nice, right? This is our vision.
Everything we do is driven by the relentless pursuit of healthy peristomal skin. We invented Sil2 Breathable Silicone Technology™, so that the people who use our stoma care products, and prescribe them, can experience a world free from the daily challenge of red, sore skin.
We create essential skincare products for healthy peristomal skin.
Find your Comfort Zone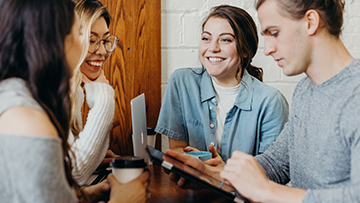 A space for all ostomates including, helpful resources, and shared stories to guide you, family and friends through life with a stoma.
Find out more
FAQs
Are these products available on UK NHS prescription?
Yes, all Trio® silicone products are available on prescription from your GP. Provide your GP with the relevant product code (found on the product page) to make it easier to find. For accuracy, we can also send you a prescription card with the product(s) you use selected for you to give to your GP. You then obtain the product through your usual provider (delivery company or pharmacy). For International customers, please contact your nearest stockist for local information.
How do I get Trio® products on prescription?
You can speak directly to your delivery service and ask them to switch your product, however some prefer for you to speak to a healthcare professional before changing products. In this case, speak to your stoma care nurse or GP to get your prescription updated.
Are Genii™ ostomy seals difficult to remove?
No. The Genii™ ostomy seals remove easily in one piece for reduced risk of skin stripping. They also do not leave a sticky residue on the skin when removed.
Can I use Trio® silicone products on wet skin?
Most ostomy products will struggle to adhere to very wet skin. If your skin is very sore and wet, you should seek medical attention and take advice from your healthcare professional. However, if your skin is mild to moderately wet, you should prepare your skin as normal prior to any appliance or bag change, then apply the Trio product as normal. This includes washing and drying the skin and applying powder if necessary.
See all FAQs