Have you recently had surgery but you aren't sure where to start with your recovery? During the research for our set of booklets and factsheets, we discovered a recurring theme across what many of our ostomates were telling us. So, we created our "Four Simple Steps" to help you get back into the swing of things. First, allow yourself time to heal emotionally as well as physically. Secondly, be open and honest with the important people in your life so they can support you. Thirdly, be as prepared as you can and try to have everything you will need to hand (but expect things to go wrong and plan accordingly). Finally, have a go at things (depending on advice from your stoma nurse) as you don't know what you can and can't do until you try!
There are also some little things that will aid your recovery such as getting a Radar Key (your distributor or supplier should be able to get you one) to give you access to thousands of toilets across the UK. Also remember your accessories such as flange extenders and gelling sachets (depending on your output) can play a huge part in helping you get out and about after surgery.
To read the full A4 printable factsheet, please follow this link.
Published: 2nd April 2019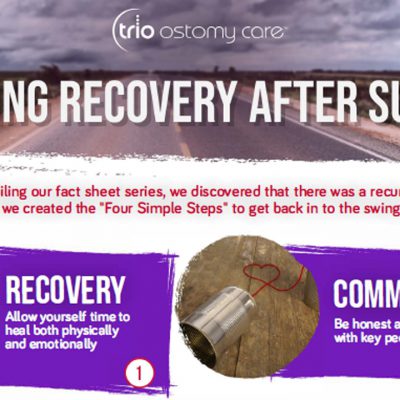 Back