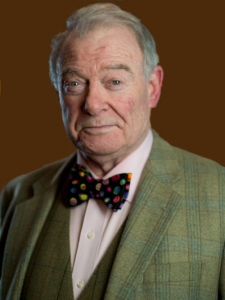 This month, we introduce you to Evelyn who underwent ostomy surgery due to a bowel cancer diagnosis. Having given up work due to the cancer, he has used the opportunity to take on a new challenge and now writes and illustrates children's books.
"In 2010 I was diagnosed with bowel cancer. The choice; a bag or a box was clear. Following the operation, I had a year of Chemotherapy and that year I also got used to my stoma. "Give it a name," I was urged. Why? It's part of me, not a separate entity. Above all, it's a daily reminder of how lucky I am.
I had a career in international trade and met Aselle, my wife, while working in Kyrgyzstan. In 2002 we came to the UK, so that she could study English law. I'd been warned about ageism, but it was a shock. After a couple of years painting and decorating, data entry and working in a call centre, I got a job. General Manager of a manufacturing company. A few years later I became Finance Director. All that came to an end in 2010. Now I have a new career. With my wife's encouragement, I set about writing and illustrating children's books. It's great fun and I also enjoy giving talks at schools and libraries. I write articles too, mainly on disability issues, for a variety of organisations and news-sites. 
In hospital I'd been given samples of a two-piece system and used it until the manufacturer, without warning, changed the design. Because of the frustration of finding a new product I changed suppliers too. I tried many brands and chose Euro Tec's two-piece system. An itch under the flange is a reliable sign of the start of a leak, I've had a few in the last eight years and it's no fun. Prevention is paramount and I continued to change the flange about every three days.
Healthy skin that will take a flange is vital. Without it, one is chained to the loo! Always keen to try new products, I saw an advert for Trio Silicone and ordered a sample of Elisse Barrier spray. It was simple to use, even upside down and dried in seconds. The benefits were soon apparent. Three days, no itch! I waited five days before changing. The skin was healthy although a small problem area on the underside of my stoma remained. I'd been using Elisse for quite a time when an e-mail from Trio introduced Silken. I had to try it.
Applied after the spray, Silken gel proved as big a step forward as Elisse.  A month later the small problem under my stoma had gone and now a flange lasts seven days. Using Trio products has kept my skin healthy, a wonder as I'm plagued by eczema on my face and chest. Touch wood, since using them I have not had a leak. Even a dose of Montezuma's revenge following bad holiday food did not break the seal.
I'm immensely grateful that I have a stoma. Thanks to Trio, I now have the confidence to be grateful without being ruled by it."
Published: 24th April 2019
Back to Blog