Ask Fran about training with a stoma
Paratriathlete Fran Brown, 36, was initially concerned her stoma might complicate her job as a professional athlete. Instead, she found it helped her get her life back. We asked her about her training for the 2021 Paralympics and how she stays mentally and physically strong.
"You can do anything with a stoma. It hasn't stopped me from living life."
 I've had a C4 spinal injury since 2006 and disability has never held me back. I've carved a successful career as a paratriathlete, competing for Great Britain in paraclimbing and paratriathlons.
Fran also has Crohn's disease and approximately 14 months ago it became unmanageable. Incontinence meant I had to plan my training around frequent bathroom breaks and a particularly nasty flare up in April 2020 meant I had to stop, which put me under a huge mental and physical toll – and that's without adding COVID-19 to the mix!
I was wary of having a Stoma at first when the need to have one was initially explained. I thought it was something older people had and that it would complicate my training further. I wish I had known that a) people of all ages have stomas and b) you can do whatever you want with your life, with a stoma.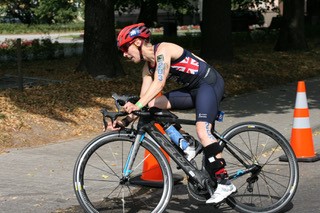 "A few issues kept cropping up post-surgery"
First, I discovered I was mildly allergic to hydrocolloid, which is the adhesive used by most pouches. It would cause rashes and my skin felt generally unhealthy around my stoma site.
Second: sweat. Training three times a day means I deal with a lot of sweat. It's a sign of a good session! It also can complicate product use. Moving about on the bike, running, swimming… your stoma bag and products need to be pretty sturdy. The more I sweat, the more the adhesive would break down, and the looser my pouch would become.
In the early days, I was changing my pouch around three times a day, as it was either falling off or irritating my skin from the hydrocolloid. It really began to get to me, and I even considered retiring.
"I didn't want to throw in the towel just yet"
I'd come so far, and I didn't want to part ways with training. My stoma care nurse was restricted in what she could recommend, so I went back to doing more research, determined to find a routine that worked for me.
I came across Trio and by finding products and a routine that works for me, my skin is so much healthier. I'm changing my bags less frequently and there's no more worries about leaks. I can run freely, cycle long distances and swim to my heart's content! I genuinely don't notice my stoma at all.
I've been training full time for the 2021 Paralympics and qualified for the GB team in June.
With a lot of research and support from fellow ostomates, I've got a handle on life with a stoma. For anyone new to this way of living, welcome! In many ways, a stoma will give you more freedom and control over your life. You can still do all the things you did before. You can do anything with a stoma. It hasn't stopped me from living life, and it won't stop you.
About the author: Fran Brown is a world champion paratriathlete. She lives in London and works as a physiotherapist and a percussionist and session musician. We will always do everything we can to help ostomates share their stories. If you'd like to become one of our guest bloggers, please get in touch.
Back