This month on our blog, we thought we'd answer some of your frequently asked questions as we get asked all sorts of questions about our products, delivery companies, prescriptions and general ostomy lifestyle queries. So, whether you've emailed us, messaged us on social media or asked on the phone during a call with our customer care team you may see your question featured below!
What's the difference between a delivery service and a manufacturer?
We get asked this on a regular basis as many of the ostomy product manufacturers are aligned with one of the delivery companies. However, a manufacturer is the company who actually designs and produces your ostomy products; for example, Trio is a manufacturer of ostomy accessory products and Coloplast manufacture the popular Sensura Mio ostomy bags.
A delivery service is a company such as Charter, Bullen or Fittleworth who have huge warehouses full of every product that's available (from all manufacturers) and these companies ensure that the correct product on your prescription is delivered to you, the consumer.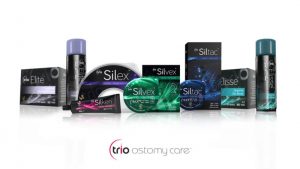 Can I get Trio products with any delivery service/from anywhere?
You absolutely can. Trio products are available through all delivery services as the delivery service has to ensure they honour whichever product is on your prescription. You can also buy our products on Amazon if you aren't able to get them through the NHS.
I really like your products…how do I get them on prescription?
If you love Trio products (and we always hope that you do), then there's a couple of ways you can get them onto your prescription. You can directly speak to your delivery service (Charter, Bullen, Fittleworth, SecuriCare, Medilink and Amcare, Chemist etc.) and ask them to switch your product to the one you'd like. Some delivery companies won't change your product without you speaking to a healthcare professional beforehand, so in these circumstances you need to speak to either your stoma care nurse or your GP. If you explain to your healthcare professional that our products are better for your skin, they will usually be happy to change your product. Sometimes they only want you to change to products that will help save the NHS money, but that's not usually an issue as Trio products are generally at the more cost-effective end of the market.
What's the difference between hydrocolloid and silicone?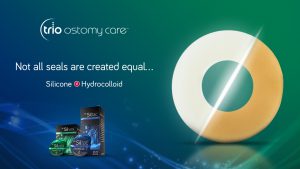 There are many differences between the two materials, but we hear a variation on this question from a lot of ostomates. Hydrocolloid is what most ostomy products (and currently all ostomy bags/pouches are made from) and was originally invented for use in dentistry, it's designed to absorb moisture and the more it absorbs the better it sticks. However, when it's used in ostomy it's absorbing output and sweat which is then held against peristomal skin causing irritation and sore skin as well as causing the hydrocolloid to breakdown and lose its integrity.
Trio's new silicone technology provides a better alternative as it maintains a good seal against the skin without absorbing waste, this also makes it much easier and kinder on skin when it's removed. Silicone is hypoallergenic so unless you're actually allergic to silicone (which is extremely rare) these products are much kinder on your skin. The silicone technology in Trio products is responsive which means it fits to your stoma size and shape and is flexible enough to move with your body, all of which provides a better fit to prevent leaks and the sore skin associated with output reaching your skin.
Do different products cost the NHS different amounts?
In a nutshell, yes. The NHS has a drug tariff which states how much each manufacturer charges the NHS for their products. Ostomy products, like all medical products, are not free to produce so manufacturers must be paid somewhere in the process to enable them to continue production.
In the UK, these costs are not passed on to the consumer because we have the NHS and ostomates do not need to pay for their prescriptions as these items are essential to their quality of life. However, in other countries such as the USA, most medical products are paid for by either the customer or their insurance company.
Got a burning ostomy question to ask us or want some advice on a specific topic? Email us on careline@triohealthcare.co.uk with your questions and we will answer them in next month's blog article!
Published: 28th February 2020
Back to Blog