Meet Richard
It's impossible for me to forget when I had my ileostomy – 1st December 1988 – as it was on my 27th birthday. In the three years prior to that, and particularly during the final year, my quality of life was very poor as a result of severe ulcerative colitis. Less than a year after the operation – 4th November 1989 – I was married and things were essentially back to normal for me.
Since that time, I have gone on to retrain as a teacher as well as obtaining professional and academic qualifications. My wife and I had a son, and I have written 37 books on checkers/draughts! I have also managed to live what may fairly be termed a normal, active life including activities such as skiing, swimming, cycling and walking.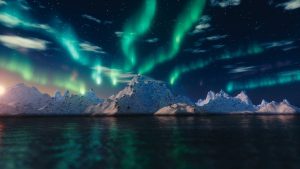 Of course, there have been many minor blips along the way. To a very large extent I have dealt with these myself, but in the last couple of years sore skin has become an issue. In this respect, Trio's Siltac Silicone Ostomy Seals have proved to be most useful. They were put to very good use recently when my wife and I had a fortnight's cruise to northern Norway to celebrate our 30th wedding anniversary. Husky rides, reindeer rides, fjord trips, memorable rail journeys and spectacular views of the Northern Lights were just some of the attractions, together with some delicious food and drink! Changing the bag during rough weather was certainly a challenge, but braced in a 1950s Elvis Presley stance and aided by Trio's forgiving Siltac seals all was well. A holiday to remember!
Meet Eunice
I have had my ileostomy for around a year now after I was diagnosed with bowel cancer. For quite a few months I experienced so many difficulties and struggled to learn to deal with them, which really knocked my confidence.
I originally sent off for samples of Trio products because my ileostomy is permanent and I needed to find a way manage it. The skin around my stoma was so badly burnt and painful with leakages so I sent for samples of the adhesive remover, skin barrier and ostomy seals to try.
I was so impressed with the immediate relief and easy to use products. My skin is now completely healed and so comfortable that these products are now used as part of my daily routine to prevent this happening in the future.
These products have been especially beneficial to me as I have many allergies, but Trio products are perfect for me. I keep Elite and Elisse wipes in my 'just in case bag' to take out with me, as they take up less space than the sprays and are good for security and my peace of mind! I now have total confidence in going out and living my life with my stoma and not worrying about leaks. I am so happy now and I have even recommended Trio products to other ostomates to try. I have also commended them to my stoma clinic and nurses. I'm so glad that I can now just concentrate on living my life to the best of my ability. Thank you so much Trio!
Published: 30th March 2020
Back to Blog