This month, we're thrilled to bring you the inspiring story of a little girl called Jessica who has had a stoma since she was 4. Her mum, Kim, wanted to try and keep things positive for Jessica so they started a Facebook page to help raise awareness for other children and parents in a similar situation and to show them that children can still be happy and do all the activities other children without stomas do.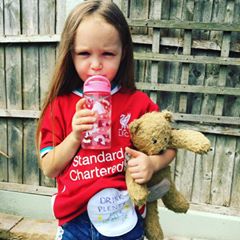 Jessica was born at 37 weeks premature. She didn't pass meconium until she was about 3 or 4 days old and has had constipation problems ever since. She underwent several trips to the doctor for manual evacuation as well as having Botox to her sphincter to try and resolve things. She had chronic fissures removed a few times, and she was on medication and bowel wash outs at home. Whatever the doctors tried, nothing seemed to be very effective so it was decided she would get a colostomy to give her body a break.
In November 2018, just 2 months after her 4th birthday, Jessica had her colostomy surgery to form her stoma. She was in hospital for about 7 days, but then back to school just 2 and half weeks later. The first year of her stoma was really hard. In January 2019, we discovered there was mucus coming from her rectum which was causing her pain and she ended up being admitted to hospital for a night. Every few weeks, she would get mucus but we were given suppositories to take home to help her.
Unfortunately, in May 2019, she got admitted to hospital again and had to go to theatre as she had developed diversion colitis and was having problems with mucus again. The doctors said her stoma was too tight inside and she had a lot of granulation. So, in November 2019, Jessica was booked to have a refashion of her stoma, she was in theatre for about 3 hrs but she still smiled afterwards. We were home just 2 days later to rest. Sadly, her wound then opened up and she ended up being off school for 2 months as her recovery was slower this time. She still gets mucus ever few weeks but we manage it at home and keep things positive.
In the end, that was why Jessica wanted to make her Facebook page, Jessica's Stoma Journey, to help other children and parents stay positive too, and to see how you can still be happy and do all things a child can normally do whether you have a stoma or not.
We have used Trio sprays and Pearls from day one, it's kind on Jessica's skin and her skin never gets sore. We find the bag comes off so easily and also it's a lovely small bottle that Jessica can hold when helping changing her bag herself. The barrier spray is amazing, and we also have the wipes which we take on holiday for on the plane.
Request your Trio product samples here
Published: 20th August 2020