We don't know if we'll be going on a summer holiday. We're not sure if we'll be able to socialise with our friends. But one thing they can't take away from us this year is healthier peristomal skin. Our brilliant new stoma bag, Genii™, is coming soon and we believe it is going to change ostomate's lives for the better. We can't tell you how giddy we are about this development – silicone is being used in a stoma bag for the first time ever. Great news for your skin!
What makes the Genii™ stoma bag different?
Genii™ combines all the best bits of a modern stoma bag with a silicone flange. We specifically developed our Sil2 Breathable Silicone Technology® to revolutionise the way stoma bags adhere to skin.
How does Sil2 Breathable Silicone Technology® help skin?
If you already use our stoma skincare products, you'll know they're great for your skin and it's all thanks to Sil2 Breathable Silicone Technology®. This unique silicone adhesive blend sticks brilliantly allowing you to wear your Genii™ bag with confidence. It's very flexible and moves with your body, fitting your shape perfectly. Yet, despite sticking brilliantly, the adhesive allows your skin to breathe, encouraging normal moisture exchange and helping it to remain healthy.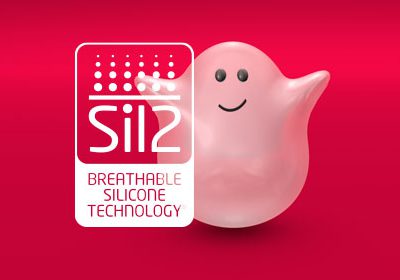 Get ready to tackle anything with Genii™
As you'd expect, Genii™ also comes with a range of features that will help you live life to the full. Many people who use our ostomy solutions like to keep active, so we worked hard to develop a fabric with sports' performance in mind. It's soft, lightweight, water-resistant and feels like it's barely there! The high-performance carbon filter manages air in the bag to reduce ballooning and pancaking and we've also introduced three colours to provide maximum discretion.
Genii™ will be available in flat closed and drainable bag. Our drainable stoma bags have a nifty little pull tab that makes opening, draining and cleaning easier too.
We think this could be our most exciting year yet and if we can help just one more ostomate have healthier stoma skin, we're winning. Don't forget, there are only a few weeks left till launch of the new Genii™ stoma bag so make sure you've got your name down on the Genii™ VIP list and be the first to get your hands on a free sample. If you need anything else, give us a call on 0800 531 6280 or email careline@triohealthcare.co.uk
Hello comfort - Anne
"Once it was on you couldn't feel it. I knew it was there and it stuck incredibly well. It just moved with my body."
Hello confidence - Scott
"I had greater confidence in the product, it meant I could go out and do new things, such as exercise, without having to worry."