In the third instalment of our catch-up, Fran Brown tells us all about her experience of competing in the Tokyo Paralympics and how she overcame long flights, Covid restrictions and health setbacks to finish the race.
"A flare-up meant I had a week where I couldn't train"
For two weeks before the games we stayed in the preparation camp in Miyazaki on the south island of Japan. Things didn't go according to plan because I had a couple of health problems. I had a flare-up from the medication I was taking and about a week where I couldn't eat or really drink anything, which obviously with my stoma is a bit of a pain. That meant I had a week where I didn't really train which was just really bad luck.
We flew to Tokyo on the day of the opening ceremony to race on the 28th. We didn't stay in the village initially, we stayed right next to the course in the Hilton hotel. This was cool, but obviously with the Covid restrictions in place, we weren't allowed off the floor of our hotel without an escort, so we were pretty much in our rooms the whole time unless we were training. This was only for the three days prior to the race though and this time is always full of briefings and course recces.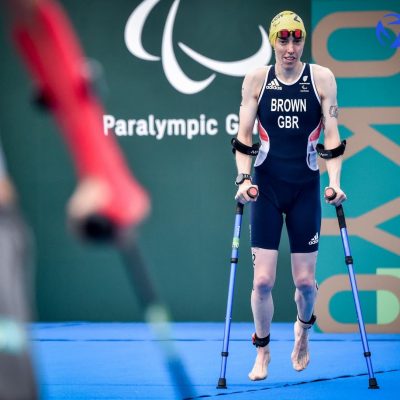 "I had to eat breakfast at 2.30am on race day to digest my food"
I was used to getting up early every day for Covid tests, but I knew on the day of the race I'd need to get up even earlier to be able to digest my breakfast. Because of my high output and difficulty eating sugar I took quite a lot of carbs with me. I packed rice, jelly babies for the race, tuna for protein and some snacks. When we were in the village in Miyazaki it was fairly flexible because we had a buffet to choose from but, in Tokyo, it was more difficult because we were ordering from the Hilton room service menu. Our nutritionist bought us loads of rice and chicken, but it was quite challenging.
Race day was what we expected. It was fairly warm, but it had been cool all week so everyone was freaking out that it wasn't going to be that hot after all the heat training we had done. The race was starting at 6.30am so we got down to the course at around 4am to do all the admin, uniform checks, bike checks and body markings. It takes time because there are 50 athletes and every single person has to be processed through. I did a 30-minute warm up and was a bit nervous but, to be honest, I was more worried about what to say to the TV crew!
"My main ambition was to get to the start line"
We waited for the boys to start and then we jumped in the water. It was black and really warm. You couldn't see anything! I'm not the strongest swimmer but I came out a minute down, then I jumped on the bike which also went well. Out of transition I was neck and neck with another girl, but she ran off into the distance. I knew I had about 6 minutes on the person in fifth position and I knew I couldn't catch the person in third, so I decided to just enjoy the race and ended up finishing fourth.
It was a little bit disappointing because on my previous form I should have medalled. But, because of various setbacks I hadn't run for two weeks. I hadn't been eating properly and I'd been blending my food. I just felt tired and depleted. It wasn't ideal. They weren't even sure I should race but said if I completed my prep training then it would be OK. My main ambition was to get to the start line, so to then go on and finish I was really happy, regardless of the outcome.
"I would fly with a bigger bag next time on a long flight"
I was supposed to be flying back on the Tuesday, but the mucositis medication gives me awful muscle pain, so everything was ridiculously sore for about a week after the race. I also get really bad spasticity because of my spinal injury which makes it unsafe to fly. Luckily, I'd packed 3 weeks supply of stoma products! I'm glad I did because I was changing my bag after every training session. Even though I was rotating different bags, the heat was just melting the adhesive. It was horrible! I would also take a bigger bag next time if I was doing a flight with a long changeover. My stoma always gets more active when we land, so I was going to the bathroom every five minutes.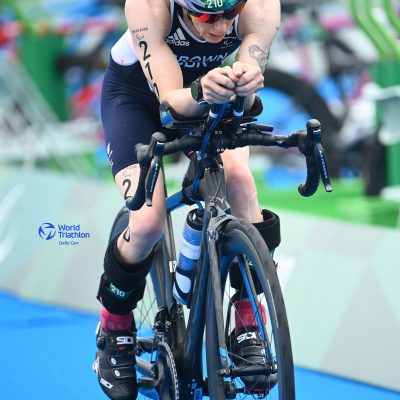 I was only home briefly before heading to Valencia for a week to train for the Europeans. Now, it's all about building up qualifying points for Paris 2024. I'll be competing in the World Championships next November in Abu Dhabi and doing some cycle races to mix up my disciplines a bit. I haven't been able to work with a run coach because of Covid so I'm also looking forward to that. I would have loved to have medalled, but after the year I've had I'm happy making the finish and hopefully the next one will be a bit more perfect.
About the author: Fran Brown is a two-time world champion paratriathlete based in London.  She finished fourth in the Women's PTS2 in 2021 and we'll be following her progress as she prepares for Paris 2024. If you'd like to become one of our guest bloggers, please get in touch.